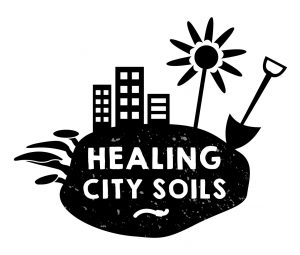 The Healing City Soils project has been completed for 2016! Almost 140 soil samples were tested in Victoria and Esquimalt through this joint project with Royal Roads University and the results made into an interactive map (coming soon!) to inform the community about potential for soil contamination and best practices for growing healthy produce in back and front yards and boulevards.
As well, we are thrilled to announce that two of our new factsheets from the Healing City Soils project are now complete.  These factsheets will help urban gardeners learn more about soil contamination and protect their health while growing their own groceries.
Soil Contamination:  Whether you are already growing food or would like to begin a garden, it's a good idea to learn more about your soil so that you can grow food safely. Urban soils are often compacted and nutrient deficient, and can sometimes contain heavy metals and other contaminants as a result of historical industrial activity, past and present land use and proximity to pollution sources (e.g. a major road). Soil contaminants may get into or onto our veggies and fruits and have negative health effects over the long term. Gardeners can take many simple and inexpensive actions to reduce their exposure to urban soil contaminants. Soils can be managed, improved and made healthy again so that you and your garden can thrive.  Find the factsheet here.
Best Practices for Healthy Urban Gardens:  We recommend that all gardeners follow healthy gardening practices to help reduce exposure to heavy metals and other contaminants. Generally, maintaining a neutral soil pH, adding organic matter and compost to your soil, mulching your garden soil and thoroughly washing your garden produce can reduce your exposure to many soil contaminants so you can enjoy the many health benefits of eating fresh garden-grown fruits and vegetables. Find the factsheet here.
Save
Save