Fall Organic Plant Sale on Saturday August 27th!
August 3, 2016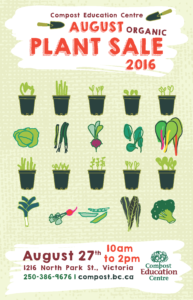 Our annual August Organic Plant Sale is coming up on Saturday Aug 27th, 10am-2pm at the Compost Education Centre, 1216 North Park St!
The sale is a great chance to get local, organic veggie starts for winter growing! Come on out to the little sister of our spring organic plant sale and get your greens for the winter. Kale, broccoli, cabbage, salad greens, culinary herbs, medicinal herbs and much, much more will be available.
Farmers:
Save
Posted in Blog, Events, Featured, News, Uncategorized