Chris Dufour, Education Coordinator

I grew up in Halifax, Nova Scotia but have spent the last five years exploring Turtle Island (Canada), living in Ontario, British Columbia, and the Yukon. I hold a B.A. in environment, sustainability and society, and political science from Dalhousie University in Nova Scotia, and a certificate in visual arts from the Yukon School of Visual Arts.
I position food justice, food security, and sustainable agriculture practices at the forefront of my food activism. I love to work with kids, and to help give them knowledge on sustainability and social justice; because knowledge is power, I believe it's crucial to create connections and understanding between food, sustainable living and climate change. I bring an exciting and engaging energy workshops, which include games, hands-on workshop engagement, songs, and fun for kids of all ages.
When not at work, I am a practicing visual artist, outdoor enthusiast, and adventurer extraordinaire. In my spare time, I love to hike, paint, bicycle, enjoy local musicians, cook up a storm, attend art shows, and read some of my favorite books and magazines.
Kayla Siefried, Site Manager & Community Education Coordinator

A keen sustainability activist, Kayla finds meaning in advocating for and living an environmentally sustainable life that involves bicycles, all things soils, food, and gardening.
Kayla's environmental education started with the completion of her Bachelor of Environmental Studies at the University of Waterloo. She loves to share her knowledge about these things with people young and old through formal and informal education. She's facilitated youth programs for sustainability all across Canada, Guatemala, and Cambodia, and has a zest for travel and adventure. With permaculture training and farming internships under her belt, Kayla is the steward of the Compost Education Centre demonstration gardens. 
Kayla sees the act of growing food and stewarding the soil as one that can heal on many levels. She feels privileged to be able to teach adults at the Compost Education Centre about composting, gardening, soils, and conservation. 
Alexis Hogan, Executive Director and Healing City Soils Program Coordinator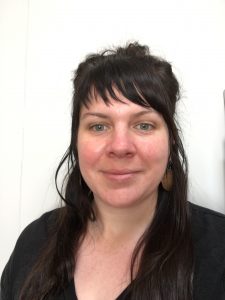 Alexis Hogan is a queer (she/her) white settler with Indigenous heritage (Irish, Quebecois and Anishinaabe from Sharbot Lake, Ont). 
She's deeply committed to the community-centered environmental education that the Compost Education Centre offers.  She is especially enthusiastic about continuing to learn how to help reduce barriers to accessing education around compost, waste diversion, food gardening and ecological restoration and conservation. 
Her work at the CEC often dovetails with her art practice, which is informed by feminist, land-based and activist perspectives. Her artwork, through site-specific projects, social practice and printmaking, confronts extractivism through restoration, reciprocity, reflection and critical care.
When not working at the CEC or in her creative practice, Alexis occupies her time with all of the other things that she loves: cooking, Muay Thai kickboxing, hiking, camping, canoeing, garden supervising, processing food she and her partner grow, and learning about local ecologies, Indigenous and invasive plants, decolonizing agriculture, and birds of prey.
 Zoe Blue Coates, Administration and Communications Coordinator

Zoe-Blue is a queer Afro-Caribbean and African-American woman born and raised in Tkaronto (Toronto, ON). Her passions include music, textile art and design, and cooking.
She pursued a degree in Canadian History and Indigenous studies. Her research focused on how Canadians learn about the history of the lands they're on. Studying history taught her ways to take lessons from the past and use them to build community.
Through the Compost Education Centre, Zoe-Blue has combined her passion for knowledge and community. She enjoys creating informative and accessible educational resources like the BioDiversity zine for school age children. Zoe-Blue has enjoyed many facets of working at the Compost Education Centre including: connecting with community members interested in ecological stewardship, planting and harvesting fruits and vegetables, and learning more about the importance of insects in the composting process.
Hannah Estabrook, Education Program Assistant
I grew up as a settler in beautiful Mi'kmaq territory (Halifax, Nova Scotia), and had the pleasure of dabbling in the dirt throughout my childhood. My love and care for the Earth was ignited by going on long walks in the woods with my Grandpa every summer, where we would forage for wild blueberries, harvest field mushrooms, and marvel at tadpoles in the nearby river.
When I was 18, I moved to the West Coast to pursue a degree in Environmental Studies at UVic. Through my studies, I've come to understand how issues of environmental degradation are ultimately rooted in the unjust social and political systems of the settler colonial state. Through this lens of 'political ecology', I've developed particular interests in localized food systems, social change movements, and education for sustainability.
For the past 5 summers, I've worked as an Outdoor Educator, sharing my love of natural places with youth and adults alike. I've also become involved in food justice work here in Lekwungen Territories by helping coordinate the Community Cabbage, a group that diverts food from the waste stream and repurposes it to serve free meals for students.
Some of my favorite things in life include hosting potlucks, living with lots of roommates, knitting socks, making collages, open water swimming, backpacking, identifying native plants, farmers markets, CATS, and cooking food from all over the world.
Juniper Hogan
Human Resources Manager
Age: 3
Areas of expertise: Waste management, food sampling, stick quality control, office morale assessments, supervising site operations, greeting staff and visitors