Kayla Siefried, Site Manager & Community Education Coordinator
Kayla is a settler in Lekwungen Territory and grew up in Anishinaabe and Haudenosaunee Territory. Kayla's environmental education began at the University of Waterloo with a Bachelor of Environmental Studies and continued on with practical hands-on permaculture training and farming internships in various places on Turtle Island and beyond. 
Kayla is passionate about sharing her knowledge with people young and old through formal and informal education. She's facilitated youth programs for sustainability all across Canada, Guatemala, and Cambodia, and has a zest for travel and adventure.
Kayla is the steward of the Compost Education Centre demonstration gardens, as well as her own urban backyard garden, boulevard garden and composting operation. Kayla sees the act of growing food and stewarding the soil as one that can heal on many levels. A keen sustainability activist, Kayla finds meaning in advocating for and living an environmentally sustainable life that involves bicycles, all things soils, food, and gardening.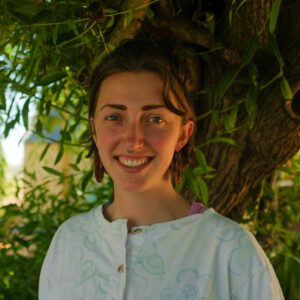 Elora Adamson, Child and Youth Education Coordinator
Elora (she/they) is a queer white settler with Dutch, British and Irish ancestry and was raised on Treaty 1 territory. She has been living on Lkwungen and WSÁNEĆ territories for the past 5 years and holds a BA in Environmental Studies and Political Science from the University of Victoria.
Elora became involved in work surrounding food waste, food security and social and environmental justice through students groups while at University. Through these experiences, she has gained experience organizing large-scale events, hosting and planning workshops and developing learning opportunities for youth. Elora is committed to building accessible and just food systems, and places a lot of value on community building and healing through this work. 
Elora brings a decade of experience working with youth to the CEC, having spent the last 6 years working specifically in outdoor and environmental education in a non-profit setting. She is looking forward to building upon the education program, combining both her sense of initiative and her strong organizational skills to bring exciting new opportunities to young learners. 
Outside of the CEC, Elora organizes with Community Food Support and is excited about working to build interdependency, creating community led solutions to food insecurity and removing barriers to make food free and accessible to anyone who needs it. When she is not at work, you can find her fine-tuning her plant ID skills, swimming, doodling and taking care of her houseplants. 
Alexis Hogan, Executive Director and Healing City Soils Program Coordinator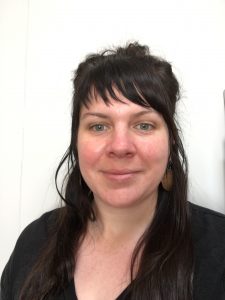 Alexis (she/her) is a queer white settler with Indigenous heritage; she is Irish & Quebecois on her mom's side and Irish and Anishinaabe (from Sharbot Lake, Ontario) on her dad's. 
Alexis was born in Duri, Indonesia, grew up in Ras Tanura, Saudi Arabia and has lived as an uninvited guest on T'Sou-ke, Scia'new, Lkwungen and WSÁNEĆ territories off and on for the past 20 years. She holds a BFA in Visual Arts (2015) from Emily Carr University of Art and Design with a focus in visual arts and critical, cultural theory.
Alexis is deeply committed to the community-centered environmental education that the Compost Education Centre offers.  She is especially enthusiastic about continuing to learn how to help reduce barriers to accessing education around compost, waste diversion, food gardening and ecological restoration and conservation. 
In 2021, entering her fifth year at the CEC, Hogan was promoted to Executive Director of the Compost Education Centre.  Through her role as a member of the CEC's Interim Mangement Team from 2018-2021 Hogan has intimate knowledge of the organization's needs and a keen familiarity of the Centre's strategic initiatives and potential areas for growth. Due to prior experience working in non-profit artist-run centres Hogan is familiar with the growing pains of transforming operational and program management through extensive work in differing roles (staff, board and resident). With an eye to shape the CEC's trajectory influenced by her experiences in organizational growth, Hogan brings 12 years of project management & program coordination, 7 years working in non-profits, and 3 years of non-profit financial management to her role as Executive Director.
Hogan's focus, in collaboration with the Compost Education Centre's Staff and Board of Directors, in the years to come will look like:
Leading with empathy, and by example, to facilitate meaningful work and trusting collaborations, for staff, board and volunteers.
Community building around soil health and environmental stewardship in ways that uphold and center the values and rights of the Indigenous communities we are beholden to.
Helping to weave the contributions of BIPOC environmental and agricultural stewards into her own knowledge base and into that of the Compost Education Centre's ethos as a community-centered education resource.
Developing new and building upon existing revenue streams for the CEC that move away from funding dependency.
Working collaboratively with like-minded organizations in order to support the resilience of our communities in times of climate chaos and socio-economic inequity.
Growing the capacity of the Center to offer meaningful and equitable work to new staff via relevant programs.
Helping to make the offerings of the CEC more accessible to all community members.
When not working you can find Alexis learning about ecosystem restoration and soil remediation; watching birds of prey; collaborating on art and curatorial projects; MMA training; growing and processing food with her partner and hiking with her best friend, Juniper. 
 Zoe Blue Coates, Administration and Communications Coordinator

Zoe-Blue is a queer Afro-Caribbean and African-American woman born and raised in Tkaronto (Toronto, ON). Her passions include music, textile art and design, and cooking.
She pursued a degree in Canadian History and Indigenous studies. Her research focused on how Canadians learn about the history of the lands they're on. Studying history taught her ways to take lessons from the past and use them to build community.
Through the Compost Education Centre, Zoe-Blue has combined her passion for knowledge and community. She enjoys creating informative and accessible educational resources like the BioDiversity zine for school age children. Zoe-Blue has enjoyed many facets of working at the Compost Education Centre including: connecting with community members interested in ecological stewardship, planting and harvesting fruits and vegetables, and learning more about the importance of insects in the composting process.
Juniper Hogan
Human Resources Manager
Age: 3
Areas of expertise: Waste management, food sampling, stick quality control, office morale assessments, supervising site operations, greeting staff and visitors