Welcome, Claire!
March 1, 2023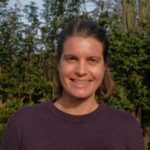 Claire Remington has joined the Compost Education team as the Executive Director.
She is a settler with German, British, and Irish ancestry who has lived on Lekwungen and W̱SÁNEĆ territories for the past five years. She was born in Minneapolis, Minnesota and grew up in Nairobi, Kenya where her parents worked for an international humanitarian agency. She holds a BA in Chemistry from Reed College in Portland, Oregon and a MASc in Civil Engineering from the University of Victoria.
Claire is an interdisciplinary researcher with a decade of work experience focused on improving communities' sustainability and resilience. Before working for the CEC, Claire spent 8 years working for SOIL, a non-governmental organization that operates a household sanitation and thermophilic composting waste treatment service in Haiti. Her strengths include project management, financial analysis, stakeholder consultation, and technical communication. She has also taught university-level courses with a focus on sustainable natural resource management, public health engineering, and sustainable cities.
In her free time you'll find Claire playing ultimate frisbee, reading a book, hiking, or playing board games with friends.
Posted in Announcement, Blog, News