We're Hiring!
September 30, 2022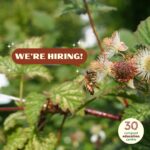 The Compost Education Centre (CEC) is a charitable, not for profit organization that provides composting, organic gardening and conservation education to residents of the Capital Regional District (CRD).
The CEC is seeking an Executive Director. The ideal candidate will have leadership experience in the non-profit sector, strong communication skills and a great capacity for innovative and strategic thinking.
Work Week: 32 hours per week to start, work week Tuesday – Friday, 9:00am – 5:30pm. After 3-month training and probationary period, potential to expand the role to 40 hours per week, Monday-Friday 9:00am – 5:30pm. Occasional weekend and evening work.
Job Start Date: November 9th, 2022
Job Applications Due: October 17, 2022, 11:59PM
For More Details, Click the Link Provided Below.
Executive Director Job posting September 2022 – Compost Education Centre
Posted in Announcement, Blog, Job Posting, News