The Red Wriggler Revue movie night September 28
September 14, 2023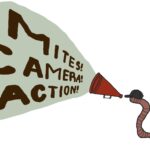 Mites! Camera! Action!
The Compost Education Centre will be hosting the first Red Wriggler Revue on September 28th from 6:30-9. Come by for a screening of the 1998 Pixar classic, A Bug's Life! Admission is by donation and there will be popcorn for sale. We invite you to bring other snacks and wear something cozy.
Accessibility: The pathways of the garden are comprised of woodchips. There is also about a 1″ step between the bathroom platform and the bathroom. There is wheelchair-accessible parking located directly outside of the Centre along North Park Street. There are three hoses with potable water located on site. There is a ramp into the strawbale building, chairs will be provided.
Posted in Events, Featured, News