Summer Raffle
July 6, 2022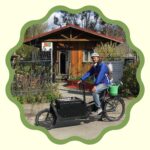 Did you hear? We're having a raffle for a brand new cargo e-bike! 
In 2021 the Compost Education Centre began a concerted effort to expand and evolve our Child and Youth Education program, including the crucial addition of a second child and youth educator, Jeffrey Ellom. As a team, Jeffrey and Child & Youth Education Manager, Elora Adamson, have developed a host of new workshops and programs. These include one-off workshops like 'Bees and Blossoms', 'Spectacular Seeds', 'Flawless Fungi' and more! Fundraising from the Summer 2022 E-Bike Raffle will support not only the development of more relevant and exciting science and environmental resiliency workshops for young people, but will also contribute to new programming initiatives such as the 'Parent-Child Workshop Series'.
Drop by in person, find us at events, or click here to grab your tickets to score this sweet ride.
Winner drawn in September. Thank you to @fairfieldbicycleshop for the generous donation.
1000 tickets, 1 for $2.00; 1500 tickets, 3 for $5.00; 3000 tickets, 10 for $15.00 | BC Gaming Event License #133883 | Winners consent to the release of their name by the licensee. 
*Participants must be 19+ and a resident of BC to enter
Posted in Announcement