Spring Organic Plant Sale
May 2, 2018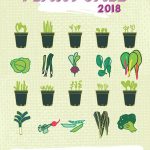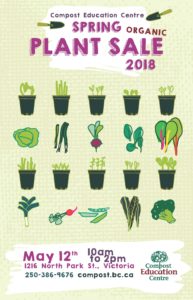 The Compost Education Centre (CEC) is hosting our 16th annual all-organic spring plant sale! The event is on Saturday May 12th, 10am-2pm at the CEC demonstration site at 1216 North Park Street. The Spring Organic Plant Sale features local farmers offering a wide variety of organically grown vegetable, flower and herb seedlings to get you off to a successful start this growing season.
What you can look forward to:
• The largest selection of organically grown heirloom tomato varieties all in one place for easy shopping
• Organically grown vegetable starts from arugula to zucchini
• Native plants for your low maintenance garden
• Perennial edibles like berry bushes and other fruiting shrubs
• Medicinal herbs like English lavender, chamomile and yarrow
• Culinary herbs like Genovese basil, dill and chives
• Companion plants like marigolds, sweet cicely and comfrey
• Live music!
2018 VENDORS:
Saanich Organics
Metchosin Farm
Growceries
New Mountain Farm
Mason Street City Farm
Hatchet & Seed
Ravensong
Saanich Native Plants
Organic Gardener's Pantry
Crooked Fir Farm & Nursery
Posted in News