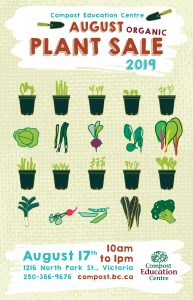 Missed the window in June and July to seed your winter vegetable garden? Not to worry, we're hosting our 8th annual August Organic Plant sale so you can still have fresh greens and herbs throughout the winter!
The plant sale will be held Saturday, August 17th from 10am to 1pm on the street outside the CEC (1216 North Park Street). Gardeners can expect to find a wide selection of plants for fall and winter growing and harvest including kale, broccoli, cabbages, collards, arugula, cold hardy lettuces, herbs like cilantro and parsley, and many others. Local, organic farmers are:
Ravensong Seeds
Saanich Organics
The Compost Education Centre
Metchosin Farm
Cam Kidd with Perennials, and Mushroom Spawn
Haliburton Farm
and more!
No need to register for this event but feel free to call our office at 250 386 9676 or contact us via email at office at compost.bc.ca if you have any questions.