Seeking Board Members
August 19, 2023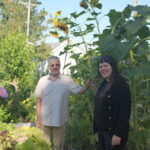 The Compost Education Centre aims to create resilient communities, which support the land and all living beings to thrive!
We are looking for skilled leaders and innovators to bring some experience to the table and share their passion for composting, ecological conservation, and food justice.
Responsibilities
Attend board meetings on a monthly basis from 6-7:30pm at the CEC, 1216 North Park St. in Fernwood, or online via Zoom
Participate in 1-3 committees: Policy, Finance & Fundraising, and Board Development
Work as part of a dynamic team to maintain the successful long term operation of the CEC
Commit to a 2 year term, consisting of 5-10 hours of work per month
Available Positions
Secretary
Member-at-large
Committee members
Helpful Skills & Experience
Familiarity with non-profits
Leadership experience
Prior experience on or working with a Board of Directors
Financial or accounting experience
Team and/or project management experience
A business background or experience in ethical/ green entrepreneurship or circular economies
HR experience
Familiarity with social enterprise or revenue generation in non-profit structures
A love for composting, food & environmental justice, urban agriculture, waste diversion and of course, soil health!
How to Apply
Please submit a PDF to Board Chare, Kalila Belle (board@compost.bc.ca) containing a concise Letter of Interest, outlining skills, experience or interests you possess that could benefit the Compost Education Centre's Board of Directors.
Posted in Uncategorized